Interviews
Interview with Mark Jansen and Coen Janssen by Eternal Silence (Epica Website Argentina), January 2010
This time we had the chance to interview two members of Epica, Mark and Coen. They talk about the new album, the new members and the Latin American tour. We hope you enjoy it.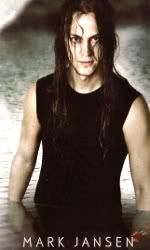 First of all on behalf of Eternal Silence (Argentinian Fansite) I'd like to start by thanking you for answering this interview. We know you might be busy, but you're always nice to us and take some time to contribute with the fansite. So, let's start...
Since Epica started as a band under the name of Sahara Dust until the present day the band had changed some of their members. What differences could you notice through the years because of those changes and which one do you think was the most favorable?
Mark
: I think it's refreshing every now and then to have a line up change. We're still quite a stable band but a new guy often gives some new impulses to the sound of the band and atmosphere. I think Arien was the most favorable. He lifted the band to a complete new level. Since he's in the band we made a huge step forward. Also Isaac brought in some fresh elements and a great stage performance.
Coen
: Fortunately every bandmember change was a succesfull one. The sound changes every time a new guy comes into the band. Luckily for Epica it turned out great with both guys from God Dethroned, they fit well in the group and are excelent musicians.
Since Ad left Epica, Isaac was his replacement. How did he adapt to the band and how did the band adapt to him? Was it difficult for the band when you started playing and composing?
Mark
: It might sound weird but it made it easier for us to compose when Isaac joined. Ad was not so motivated in the end anymore to compose music so he didn't contribute to the new album anymore and when Isaac joined there was finally this guy who brought in the enthousiasm to work on guitarparts with me. Also on stage it felt right straight away, he's a perfect guy to play in Epica.
Coen
: We knew Isaac already for some time and knew that he would be the perfect man for the job. It turned out even better than we expected! He also immediately began working on the new somgs for the DYU album and that woked out great as well. He managed to renew the Epica sound without losing the basics.
Design Your Universe, your latest record, was released in october and it was no doubt one of the most expected metal albums of the year. It also had a great feedback. What can you tell us about the differences between composing the music and lyrics for this album and the other ones?
Mark
: We wrote the songs a bit more guitaroriented and we experimented with the vocals and grunts. Composing wise there were not many differences compared to previous albums. We always try to improve ourselves and write the best album possible.
Coen
: The biggest change was working with Isaac for the first time. Also Arien wasn;t a permanent member on the previous album so his writing was also new. Usually a drummer doesn't write songs but Arien is a great writer (and drummer)
Your first single is the song Unleashed, which has its own video. Why did you choose this song and how did you come up with the idea for the video? Is it going to be the only single for this album?
Mark
: We choose this song after a voting within the band. This song appeared to be everyones favorite for a single. I don't think we'll release another single from this album.
Coen
: Unleashed is one of the few songs that is actually playable on radio and TVand that's why we chose that song. All other songs are either to heavy or contain grunts. Unleashed is from a certain point of view the most "commercial" song of the record. The idea for the video came when we had dinner before a show in portugal. We were brainstorming and this story popped up.
I've read that Tides Of Time is a very personal song that came up in a very difficult moment. How's it like to play this song live and what does it make all of you feel when you're on the stage?
Mark
: During the show I don't think too much about difficult moments but I notice that many people have a special feeling with this song. I have seen some people crying already during this song.
Coen
: It's a heavily emotional song but I can't say a thing about the lyics.
MWhen you listen to the album you can notice differences in Simone's voice. What was the recording process like? Did Simone use a different kind of technique than before?
Mark
: Simone tries to improve herself every time for every album. And so she tries new techniques as well. Design Your Universe is the most difficult album for her to sing live as it requires most energy and technique.
Coen
: I think Simone is sill growing every time we play live. She also learned some different techniques when she starred in Equilibrio (rock-musical by Xystus). Simone used more of those techniques on the latest album.
Is there any song that you really love and regret not having put it in the album?
Mark
: I love Incentive but we had some reasons not to put it in the album. And many people have bought the special edition anyway so most people know the song.
Coen
: We should have written "Master of Puppets" and put it on the album...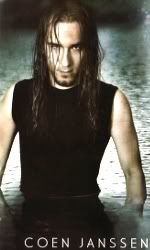 What's your favourite song of Design Your Universe to play live and what's the least favourite? What about the other members?
Mark
: Mark & Arien: most favorite: Kingdom of Heaven, least fav. White Waters Simone: Most favorite: Unleashed, least: Semblance of Liberty
Coen
: Difficult.... My favourite soong to play live is Tides of Time since it has a big role for me;) The least favourite of mine is Our Destiny
Latin American Tour Part 1 is over now. How did you live this experience and what's the show you enjoyed the most?
Mark
: I enjoyed almost all shows a lot and it was a great experience. One of the most enjoyable tours so far!
Coen
: It was a magnificent tour. Every country welcomed us with open arms and the crowds were fantastic. The show I enjoyed most was the second show in Mexico City since we played a different setlist which i liked a lot.
What can you tell us about the fans there? Did you have any surprises?
Mark
: The fans are very wild, hot and steamy. And that's the way we like it! :) Surprises are every time that people know all lyrics by heart.
Coen
: The fans are crazy like in Argentina. We got a lot of gifts and presents, too much to take home!! It's always a pleasure to play in South America and Mexico and that's mainly because of the fans.
What can you tell us about the second part of the Latin American Tour? Is there going to be anything new or different?
Mark
: We try to make every tour different and do some new things. We recently added Design Your Universe in the setlist and people appreciate that song a lot :)
Coen
: It's going to be in different countries than the first part.
You're playing in Argentina for the 4th time. What do you expect for this show and what differences do you think you're going to find between this next show and the past ones?
Mark
: I don't expect any differences. I hope the people will be as enthousiastic as last time :)The only difference will be that there are gonna be more people, that's very cool!
Coen
: Obviously we are going to play songs from the new album, which is different than the previous show. Furthermore I hope it will be as intense as previous times and I can't wiat to get back to Argentina.
To finish this interview, can you say something for Eternal Silence and all the argentinian fans?
Mark
: We love you! Cannot wait to perform in Argentina again, you guys are great!
Coen
: See you soon and thanks for the support!